In mindfulness daily, Jack Kornfield and
Tara Brach
are presenting a 40-day introduction for
mindfulness
and meditation. You can access the daily lessons via an app or online.
About mindfulness daily
The lessons are mostly around 10 minutes and they are either taught by Jack or Tara. An explanation about today's subject is followed by a guided meditation to dig deeper into the subject. It is wrapped up with a daily practice to try throughout the day. Hence I would recommend finding some space to incorporate your mindfulness daily practice during the start of your day.
Once you've completed a lesson you can access the following one the next day. This creates a nice pace and you can't rush trough the course. You are given the time to explore each lesson throughout your day. You can always revisit the lessons you've already done. The lessons are divided into four main topics:
Mindfulness Basics
Emotional Intelligence
Resilience, Healing and Inner Freedom
Mindful Living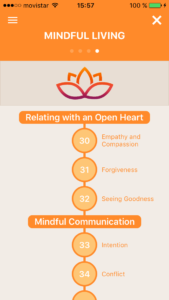 With the latest update of the mindfulness daily app (and I assume the online program as well) each lesson does now also have a name. This makes it much easier to revisit your most influential lessons when you feel like you need them. With this, you can tailor your sittings to your daily needs once you've finished the course by starting out with a subject you'd like to focus on. Which means the app keeps being your little helper even after having finished the course.
The course has a great structure that guides you through all relevant areas of mindfulness without being boring or too demanding. It's suitable for beginners as a first introduction to mindfulness, but also if you are experienced you will find this course helpful and structured and you are likely to discover new aspects of mindfulness for yourself.
Going through 40 aspects in 40 lessons you'll most likely encounter some that seem to be an easy ride and some that touch you on a deeper level. So this is also a great way to explore where to focus on more in your future practice.
Distributed by Sounds True
Mindfulness daily is distributed by
Sounds True
. Which is an independent multimedia publishing company focusing on spiritual traditions, arts and humanities. It was $38 when I bought it - so each lesson comes down to less that $1. Also because with the app or the online access to mindfulness daily you also get access to the free Sounds True content. Or actually the other way around. The app/ website is from Sounds True and you can access the mindfulness daily content there. Sounds True provides you with a fair share of free bonus material. Even the regular newsletters come with free content. So their marketing is actually a win-win deal, they remind you to spend your money with them and give you something nice for free. Fair enough if you ask me.
Their Sounds True library app is a similar deal. It provides you with easy access to meditations, music, mindfulness daily and whatever else you'll buy there in the future. It also tracks the time you've been meditating with the app, offers a meditation timer with different bells and a journal for your experiences. This keeps me from not deleting the app from my phone and even using it on a daily basis. Well done, Sounds True. Looks like you are keeping a happy customer.
My personal experience with mindfulness daily
Due to the briefness of each lesson, it's easily incorporated into your morning routine. At least for me, it was easy to sit down for 10 minutes each morning and I didn't skip or postpone a single day. Most of the time I'd even revisit a lesson in the evening again to wrap up my day.
I started with meditation many years ago, but it wasn't until about two years ago that I developed my personal daily routine. Having a structured program is very helpful for me to keep up a daily practice. Even better if it helps me revisit and expand my knowledge and practice. So the structured daily lessons were up my alley to start with. I also realized how I got a bit slack after the course had finished. But I started using single lessons matching my needs that day as an intro to my daily practice.
Furthermore, I admit being a bit of a Tara Brach fangirl. She has a lot of free content out there that I listen to regularly.  Normally it's harder for me to concentrate on a subject if I'm just listening and I prefer reading about it. In her case, it's the other way around. I had some troubles reading her book
True Refugee
. Listening to her talks on the other hand, is a great experience as the way she explains things really resonates with me. So that's one of the main reasons I chose this course.
If you are unsure about whether or not you like Tara Brach's or Jack Kornfields style just check out the free content they provide. Some of it you can also get on
Sounds True
- for free.
Model photo: colourbox.com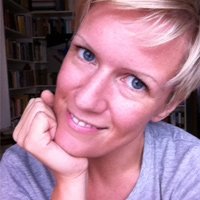 Tine is an artist, meditator, media engineer and student of happiness. If she is not traveling she's working on turning her rooftop terrace into an urban garden paradise. Find out more about her on: Instagram
Facebook