Retirement should be a time for seniors to relax and enjoy themselves, but all too often stress and isolation get in the way. Own very own senior,

Marilyn Coates-Lower

, says keeping your mind and body active is key to a healthy retirement. 
As we age, some of us may find that life becomes more stressful rather than easier. As retirement grows nearer, we look forward to the changes that this will bring, often planning to do the many things that we never had time for during our busy working lives. However, ensuring you have a happy and healthy retirement isn't always straightforward.

Indeed, according to Patrick J. Skerrett, Former Executive Editor of Harvard Health: "If we're not careful, retirement can bring about many health problems rather than contentment, and that we should look upon it as a 'process rather than an event.'"
Planning a healthy retirement
Some of us will have planned carefully for when we retire and will remain financially secure, while others will suddenly face a huge drop in income. Naturally, this can limit what we can achieve.

According to research carried out by Dr George E. Vaillant, professor of psychiatry at Harvard Medical School, there are several ways in which retired seniors – even those 80+ – can remain happy and healthy, attaining a rewarding lifestyle that doesn't require a high income level. These ways include:
 
Making new friends


When retiring from work, you may leave many of your friends behind, but building a new social network of like-minded, similarly aged people will prove to be good for both your physical and mental health.
 

Joining clubs


There are so many to choose from, including sports such as golf, swimming and tennis, ballroom dancing, walking and bridge. They will not only get you out of the house but also provide the opportunity to make new friends.
 

Keeping your mind and body active


Why not take up a new hobby, something you've always wanted to do? Gardening is a great work out and has many mental health benefits, too. Or you could learn a new language or take a new course, or maybe discover the healing power of pets. A dog will not only be a great companion but will also get you out walking and meeting people.
 
All of these suggestions are not only enjoyable but also provide excellent stress relief, which will keep body and soul together and make for a happier and healthier retirement.

We should make the most of every moment because, as this quote from Ausonius attains: "Let us never know what old age is. Let us know the happiness time brings, not count the years." Indeed, every day is precious, and a happy and healthy retirement can be found in something as simple as journaling or talking to a friend.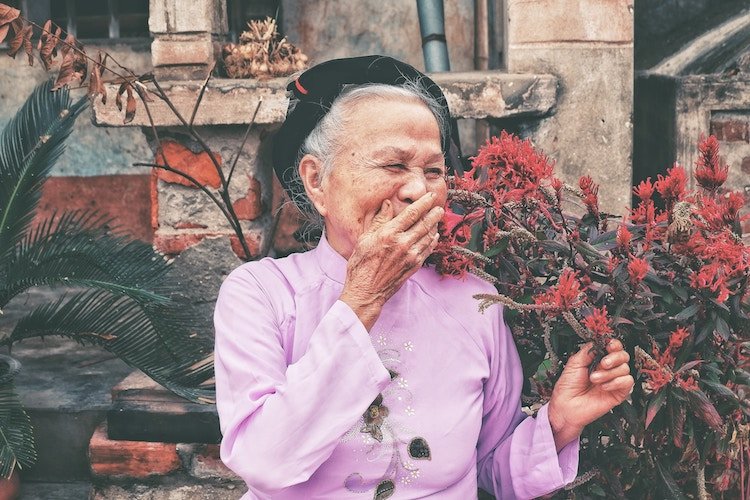 Flower power: gardening can lead to a healthier retirement
Stress and how it affects senior health
A handy factsheet produced by the American Psychological Association (APA) Office on Ageing and Committee on Ageing suggests that, if we're not careful, stress can affect us badly as we age – lowering the chance of a healthy retirement. The APA say that one of the simplest ways to remain healthy is to eat nourishing food – helping seniors to maintain a reasonable weight – and to take regular exercise.

The APA explain that stress is being caused by our bodies responding to danger, releasing hormones into the bloodstream, which speed up the heart and increase the pulse rate: the 'stress response'. They go on to explain that research has shown that too much stress will impair the immune system, decreasing our ability to fight off disease and mental health problems. It offers several stress relief tips for retiring seniors, including:
 
Staying positive


Avoid negative talk such as, "I'm too old", or, "I can't do it anymore". This type of talk will not help, and, while you may feel that doing nothing is your solution: think about what you can do instead.
 
Staying focused
Never feel helpless because, no matter how difficult something might seem, there's always a solution. Each problem is a test or challenge that will keep your mind active as you consider your options.
 
Meditation
Relaxation techniques, meditation and especially MBSR (meditation based stress reduction) have been developed to deal with stress based on techniques that have been around for centuries. According to Melissa Conrad Stöppler, MD, just ten minutes a day can help to control stress, reduce anxiety and contribute to improving cardiovascular health, which, in consequence, will make you healthier during your retirement years. 
 
Dr Stöppler goes on to say that meditative techniques were first pioneered in America during the 1970s by Harvard physician Herbert Benson. It has since gained acceptance worldwide, by both doctors and therapists, to be a valuable complementary therapy for symptom relief of many different illnesses.
 "When it comes to a happy and healthy retirement, here are several ways in which retired seniors can remain happy and healthy, with a rewarding lifestyle that does not require a high level of income."

Dr Stöppler states: "No matter how the relaxation state is achieved, the physical and emotional consequences of stress can be reduced through regular practice." Stress relief, in this form, can also lead to happiness and inner peace. For a first glance at stress relieving meditation practices, try 'Mindfulness daily', an easy-to-follow course developed by Tara Brach and Jack Kornfield.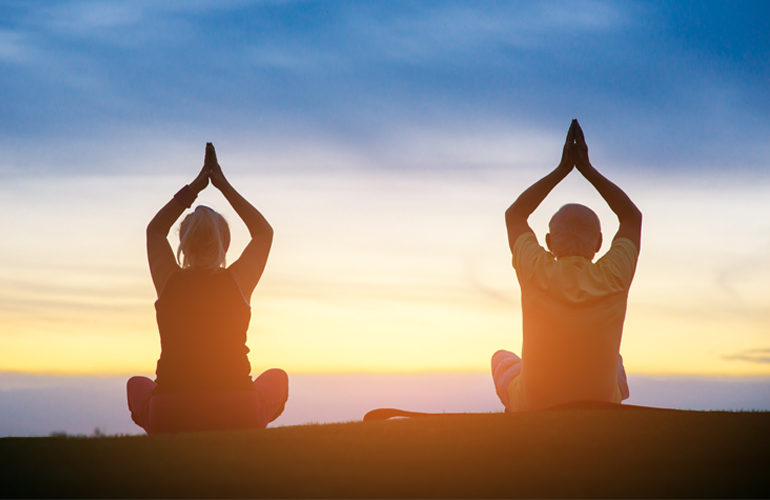 Meditation and yoga can lower blood pressure and stress in seniors
A happy and healthy retirement
Every one of us will see retirement differently; how we use all this extra time that we suddenly have on our hands depends very much on individual circumstances according to Harvard Health Publications. They explain that, if your job has been tiring, boring or unrewarding, then retirement will come as a great relief.

Whereas, those of us that have thoroughly enjoyed our work and thrived on the structured lifestyle will see retirement in an entirely different way; this in itself will require you to work harder to ensure you have a happy and healthy retirement. 

A couple who are happily married, or in a long-standing relationship, are far more likely to enjoy their retirement than someone whose home life is unstable. Healthy retirees will be looking forward to an active and rewarding time, whereas, those who are in bad health will not have this option. Whichever category you fit into, still keep as active as possible and keep your mind and body busy.
Senior stress relief: seeking help
One of the biggest stress relief tips offered by the fact sheet produced by the APA is to seek help before everything gets on top of you. Of course, when we talk about a healthy retirement, we are also referring to optimal mental health as a senior. Here are three ideas for achieving this: 
 
CBT (cognitive behavioural therapy)
This will explore and help to discover the underlying reasons for stress and contributes to change negative thoughts into positive ones.
 

Supportive therapy


Often a non-judgmental ear can help to justify why feelings of anxiety exist and to offer stress relief tips to introduce a more positive way of thinking.
 

Relaxation training


Related to meditation, it also includes education about stress and tension and how to achieve muscle relaxation.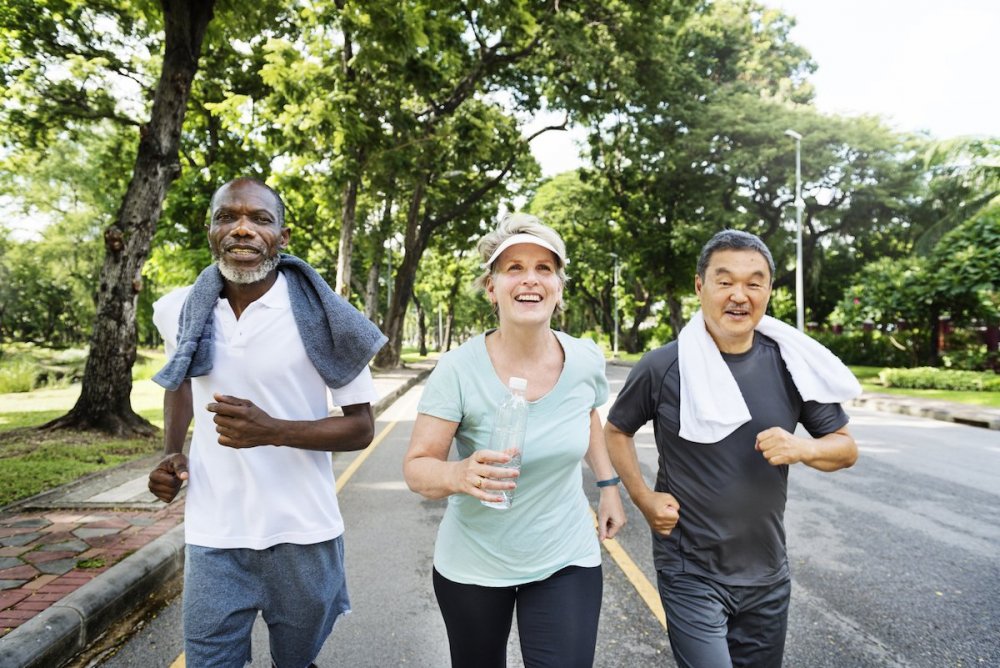 Fitness and friends: two great ways to stay healthy during retirement
Stress relief: what you can do
Dr Dossett recommends talking to loved ones or close friends, as well as visiting your doctor. Talking about problems that are stressing you can sometimes lead to a solution, but, healthwise, as Dr Dossett explains, your doctor will be able to check your blood pressure and recommend a healthy lifestyle change, particularly with diet; anti-depressants are also an option for the severely distressed.
"Every one of us will see retirement differently; how we use this extra time that we suddenly have depends very much on individual circumstances."

He also states that one of the best stress relief tips is to focus on triggering exactly the opposite of the stress response – the relaxation response – through, as previously mentioned, MBSR, meditation or tai chi, yoga and deep breathing exercises. All of these will lower oxygen consumption and the heart and breathing rate, so reducing blood pressure and stress hormones, helping to maintain a much more positive outlook on life.

As American actress Valerie Bertinelli so aptly said: "Happiness is a choice. You can choose to be happy. There's going to be stress in life, but it's your choice whether you let it affect you or not."

Indeed, seniors can and will face issues around loneliness, health and potential cognitive impairment, but staying optimistic is essential. By trying out these stress relief tips for seniors, you can increase your chances of a happy and healthy retirement. Enjoy it – you deserve it!  ●
 Main image: shutterstock/rawpixel.com
Written by

Marilyn Coates-Lower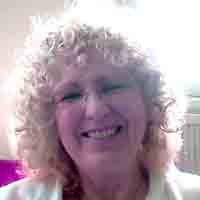 I am a free spirit who wakes up with a smile every morning. My life has been an adventure and, although now officially retired, I continue to work as a writer and proofreader. I live in a stunning part of Brittany, France together with my horse and cat, enjoying views of the woods that surround my house and across the valley to the village. By way of my experiences, I hope to inspire people, through my writing, to become more positive, happy and forward-thinking.