From laughing at yourself to reminding yourself of looming death, some secrets of happiness are shared in this bitesize 60-second video from
The School of Life

. So, take a minute (literally) to watch it... it could change your life for good! 
 

The secrets of happiness are not as complicated as you might think. We love this arty, 60-second video by The School of Life, that explains it all in simple steps. Definitely worth a watch!

 
The secrets of happiness at a glance:
Stop being so hopeful.

Look at the glass as half-empty and be grateful when something good happens. A lot of people go around thinking that life is a bowl of cherries. It isn't.
 

Stop ranting about how awful other people are.

Most people aren't evil. Accept that other people have bad days too and that it has nothing to do with you.
 

Think of death a lot.

Keep a skull on your table. A subtle reminder to use your time wisely and appreciate the time you've already been given. Thanks, death!
 

Laugh at yourself.

You're not the idiot you think you are. You're lovable and laughable. Don't be so hard on yourself!
 

Make regular appointments to talk with someone you don't normally check in with a lot: YOU!

What do you really want? What are you really anxious about? When was the last time you took yourself on a date?
 

Stop the impossible task of trying to make yourself happy.

Concentrate on cheering other people up. Seeing happiness in other people helps you to cheer up, too!
 

Look at things from a different and far away perspective.

Like from space. Things will look the size they always should've been – tiny and insignificant.
 

Throw your phone off a cliff for a bit.

Talk to your partner, your mother, or anyone else close to you. Chances are you've been bent over that thing all day and haven't even noticed that the sun is shining.
 

Give up on the idea that you should be normal.

The only normal people are people you don't know yet. Everyone is weird and that's totally okay. Love your weirdness. 
 
Which of these get-happy tips do you agree with you? Do you have any keys to happiness? Comment below! ●
Main image: The School of Life/YouTube.com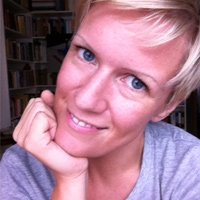 Tine is part of the happiness.com team. She's an artist, meditator, media engineer and MBSR teacher. If she's not traveling she's working on turning her rooftop terrace into a garden paradise. Find out more about her on: Instagram.