Start exploring the features on

happiness.com

and you'll soon discover we have our very own internal currency – the HAPPY token – designed to incentivize happiness and spread kindness.

 
Imagine a world where someone rewarded you each time you did something nice for another human being, helping to spread joy and happiness? Don't you think people might start to be just that little kinder to each other?

Well, although this may yet be a fantasy in the outside world, within the happiness.com community, it's very much a real thing. You see, we're aiming to incentivize spreading happiness – encouraging all our members to be kind –by rewarding them with our very own currency – the HAPPY token.  
What is the HAPPY token?
The HAPPY token is a utility and payment token used throughout happiness.com. It aims to incentivize the cultivation and spreading of happiness through our community and beyond. HAPPY tokens can be used to unlock special onsite features or pay for memberships, and are generated through our KARMA Rewards system. 
Sounds great! So, what's the KARMA Rewards system?
Whenever you carry out certain actions on happiness.com – for example, engaging with other members or contributing content – you earn KARMA points. At the end of each day your KARMA points are converted into HAPPY tokens using our secret formula, so you can earn HAPPY tokens by actively participating in the happiness.com website and community. You can see how many HAPPY tokens you currently have in your HAPPY Wallet (viewable in the top left of the homepage).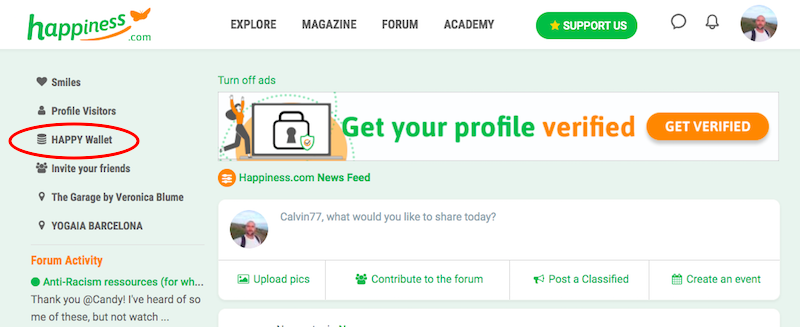 Your HAPPY tokens are stored in your HAPPY wallet

While simply logging into the website each day can earn you KARMA points, you can gain more by being motivated, spreading kindness, and encouraging others to do the same. This could be by sending messages to other members, having meaningful conversations in the Forum, creating an Event, or sharing a happiness Magazine article through your social media account.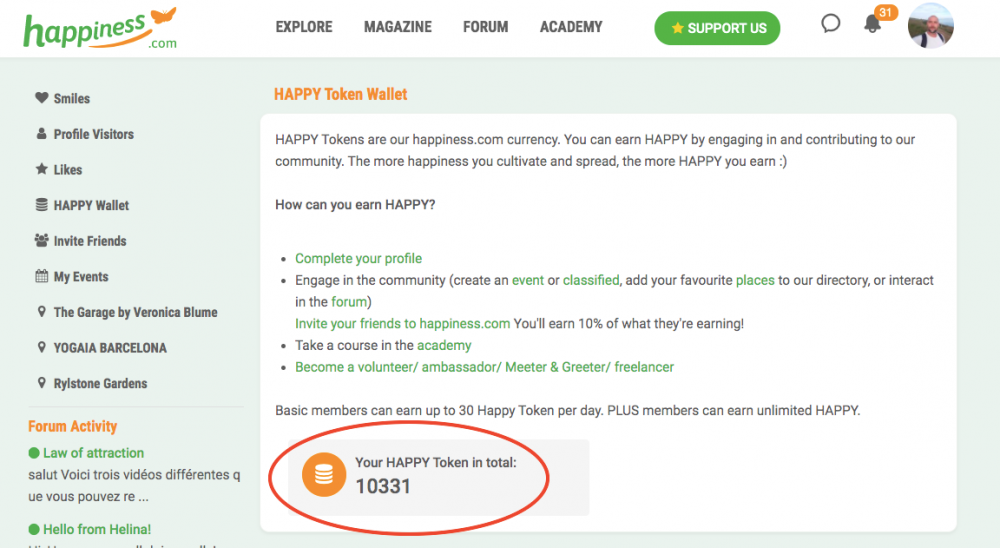 Click through to view your total amount of HAPPY
Amazing! How else can I earn HAPPY tokens?

 
Other ways to boost your KARMA points and start earning HAPPY tokens include adding interests and photos to your account, completing your interview questions, and successfully inviting friends to join. Top tip: some of the best HAPPY earnings can be achieved by enrolling and completing courses in our online happiness Academy!

Basically, the more you put into the community, the more you will get back (we all know about the benefits of kindness, right?) – although non-paying members do have a maximum of HAPPY tokens they can earn each month. You can see how exactly you are earning HAPPY on the wallet page overview, for example, by 'spreading love' giving 'positive encouragement', welcoming new members ('Happy to see you'), etc. 
Spend,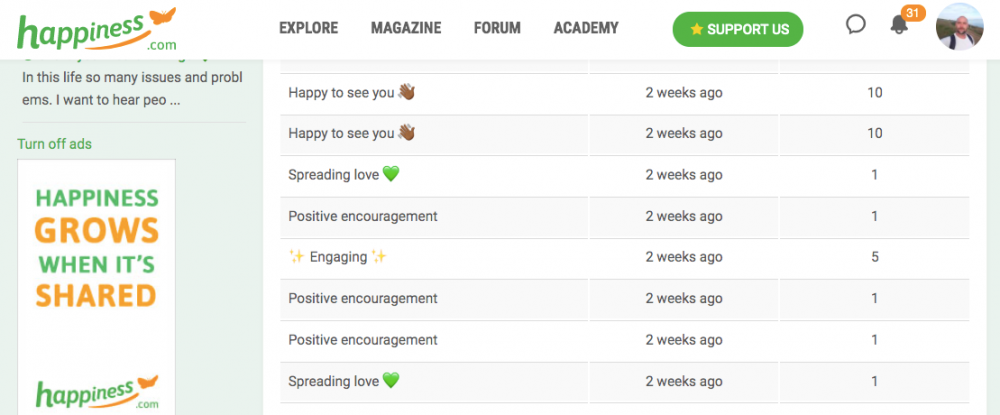 Discover how you are earning your HAPPY tokens!
What can I do with my HAPPY tokens?
Currently you can spend your HAPPY tokens to unlock certain cool features within happiness.com, for example, sending virtual gifts to other members, moving to the top of the Who's Online list to become more noticeable, or trying out our PLUS membership. 
 


In the future you'll also be able to make great savings by redeeming your HAPPY tokens for courses from our online Academy. And you'll be able to donate or gift Tokens to other members, therefore spreading further happiness. Who knows where it'll stop? We hope a new global currency built around happiness might just get started. Want to be a part of that? Then sign up and explore at happiness.com if you haven't already done so. ●
Main image: shutterstock/LanKogal