Barcelona has a vibrant yoga community with hundreds of studios to choose from. So, which are the best? Here are eight that we rate. By 

Calvin Holbrook

. 
Looking for a cool space to do the Cobra or the perfect place to do the Plank? The Catalan capital has so many yoga studios and classes it can be hard to know where to start. So, here – in no particular order – are our pick of some of the best yoga studios in Barcelona. Not a Spanish speaker? No problem. Many of these schools and studios offer some yoga classes in English. Namasté! 
1. Yoga Studio Barcelona
One of Barcelona's oldest and most-established studios, Yoga Studio Barcelona is found in the heart of the city at Plaza Universidad. It's great for busy working people, as it offers one of the best and fullest yoga schedules during the week, with classes going up until 22:00pm. 

Yoga Studio Barcelona also regularly organise courses and workshops, in everything from beginner's yoga to Kundalini. Additionally, for those with a real desire to progress with yoga, Yoga Studio Barcelona offer teaching training courses.
Yoga Studio Barcelona, Plaza Universidad 4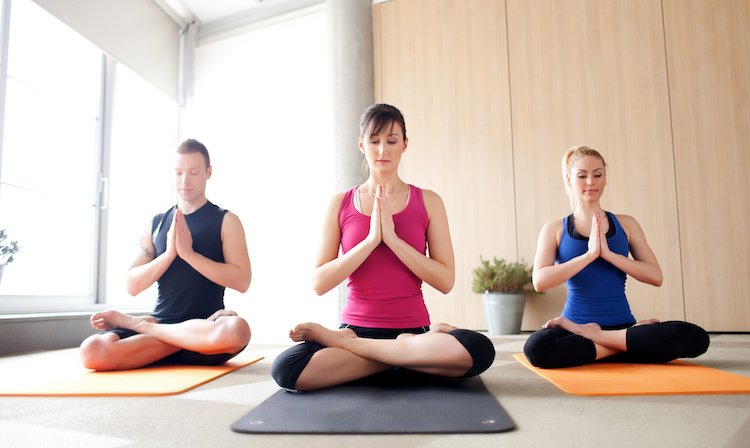 2. The Garage by Verónica Blume
One of Barcelona's most beautiful yoga studios, The Garage by Verónica Blume is housed in a converted warehouse in the peaceful foothills of Poble Sec. The project of model-slash-actress Véronica Blume – who also teaches – the studio is naturally stylish, with exposed brick, pastels and parquet flooring.

The classes on offer include ashtanga, vinyasa and yin yoga, but The Garage also regularly organise specialised short courses and events. Luckily, there are many classes and events that are also explicitly taught in English. A calm and beautiful space in which to exercise, The Garage is definitely one of Barcelona's best (and most beautiful!) yoga studios.
The Garage by Verónica Blume, c/ de Magalhães, 2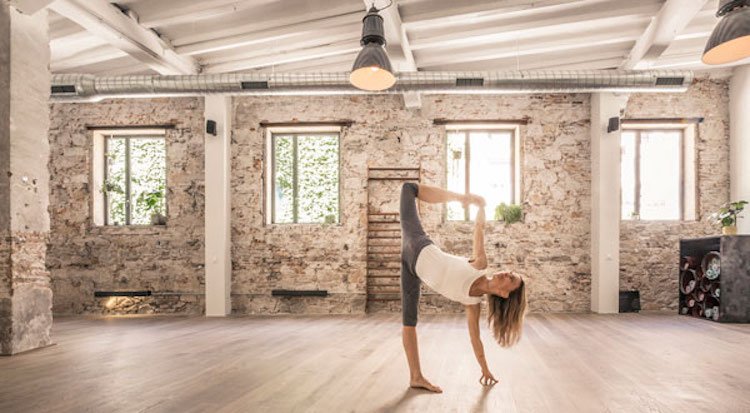 3. Espai Yoga Barcelona
If the mantras and breathing exercises involved in Kundalini yoga are your preference, one of the best yoga studios in the Catalan capital for Kundalini is Espai Yoga Barcelona.

Kundalini Yoga classes at Espai Yoga Barcelona aim to provide you with stress relief, relaxation, and help you to achieve a greater sense of well-being. They also offer yoga training for families.
Espai Yoga Barcelona, c/ Provença 196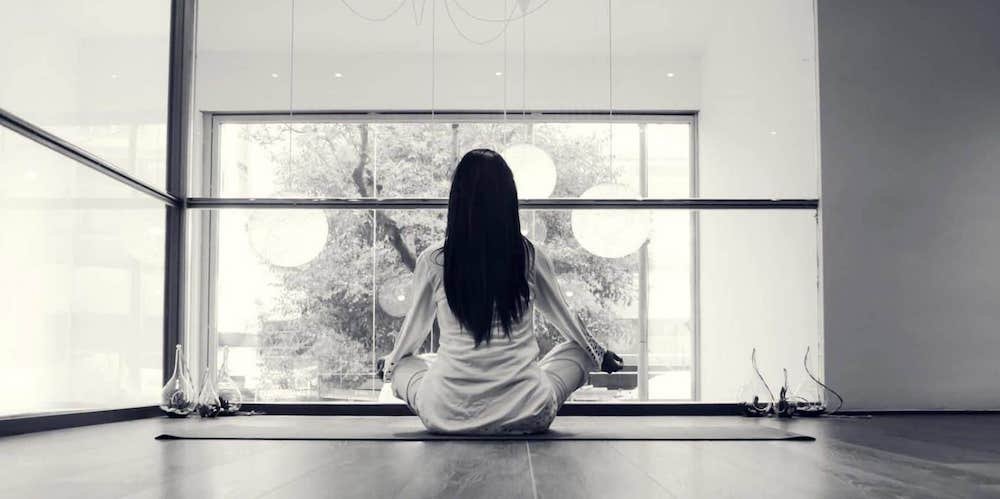 4. Yoga Bindu
Like flexibility in your schedule as well as your body? Then Yoga Bindu in Barcelona is a great option. This studio offers an extensive weekly schedule, with classes including many different styles of yoga: Ashtanga, Acroyoga, Hatha Vinyasa, Yin Yang flow, Nidra and Yin. Also Pilates and meditation. Prices start from €8 for drop-ins, or you can buy discounted 10-pass packs, which you can use across all the different styles.

The studios at Yoga Bindu have plenty of natural light, plus there are decent changing rooms, showers, a therapy room, and a café. Yoga Bindu also give teacher training in Barcelona for new teachers. 
Yoga Bindu, c/ Arco de Santa Eulalia, 1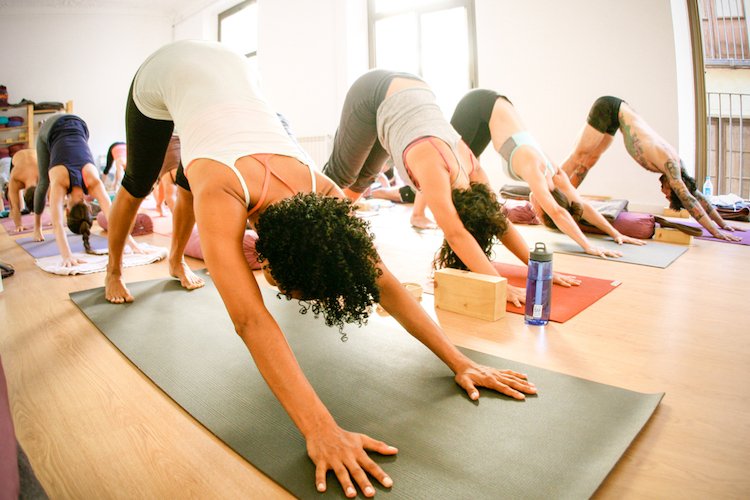 5. Bikram Yoga Barcelona
The only Bikram yoga studio in Barcelona officially certified by style-founder Bikram Choudhury himself, Bikram Yoga Barcelona is clearly the best choice in the city for those who like to sweat during their asana. Each Bikram yoga session is done over 90 minutes, and takes in 26 postures and two breathing exercises. It's practised in a room with a temperature of 40-42ºC.

Bikram Yoga Barcelona has two studio centres in the city and sessions take place in large, modern rooms with underfloor heating. Both centres boast spacious locker rooms and showers.The best news? If you're a resident of Barcelona, Bikram Yoga offers a 10-day Bikram yoga pass for €25, where you can try as many classes as possible. 
Bikram Yoga Barcelona, c/ Pau Claris 97 pral and c/ de la Caravel·la la Niña, 18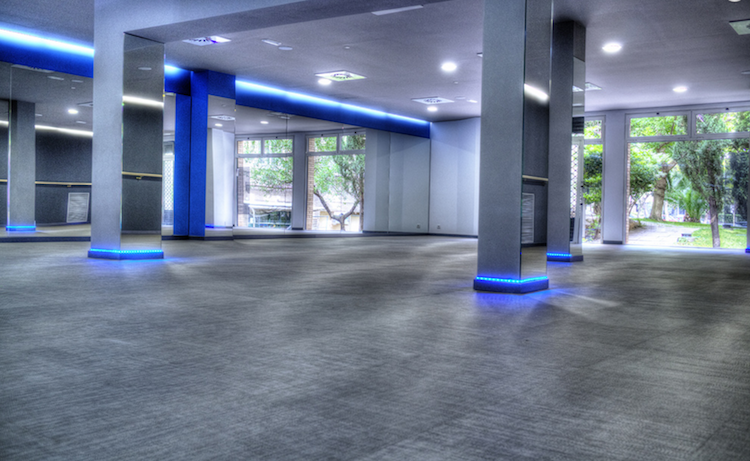 6. Yogaia Barcelona
What makes Yogaia one of the best places for yoga in Barcelona? As well as its two very bright practice rooms that look out to a gorgeous interior garden patio, Yogaia Bacelona is a social studio with a great entrance area where you can take a snack or tea. It also has a fantastic yoga-related shop attached, full of clothing and books and more. 

Yogaia Barcelona offer a wide range of yoga sessions for all levels, from beginners right through to advanced. When it comes to prices, this centre offers flexible ways to pay for your yoga sessions: there are drop-in prices, 10- and 20-class packs, as well as unlimited one, three, six and 12-month options, too.
Yogaia Barcelona, Passieg de San Juan 121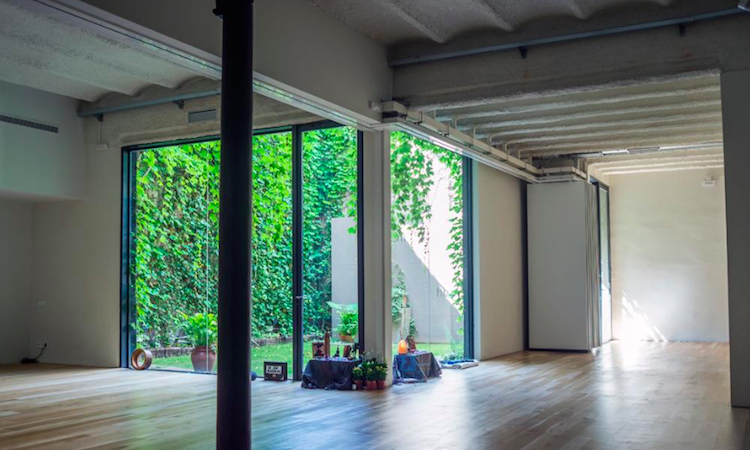 7. La Shala
Located right in the heart of Barcelona, La Shala is more than just a yoga studio; it's a space to share, to experience, explore, and work on personal development together. You practice in a large, 70 m2 room with lots of natural light. The schedule at La Shala is vibrant, offering various kinds of yoga and other activities every day of the week. Indeed, what makes La Shala one of the best studios in Barcelona are its events outside of the regular schedule including weekend yoga events and live concerts.

La Shala also offer free tea and water before and during each class and every teacher manages their prices differently, meaning this studio has more of a co-operative, community feeling, which makes it special. 
La Shala, Plaza Ramon Berenguer 2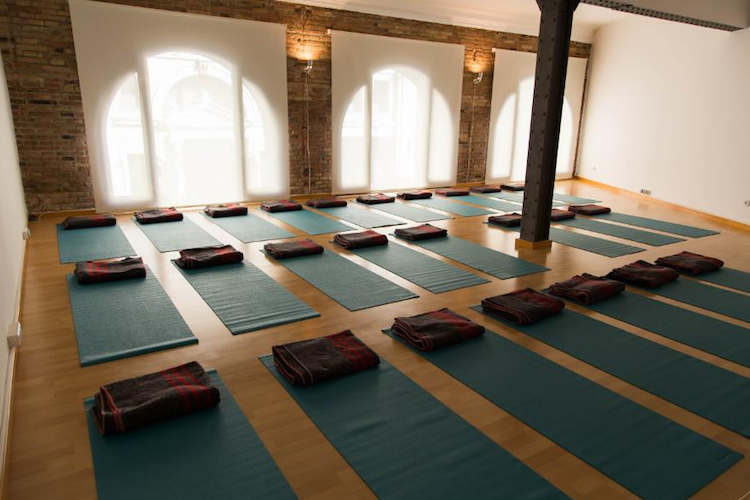 8. Glow
If you can't speak Spanish, Glow might be one of your best yoga options while in Barcelona. That's because all of its classes are taught in English! Hidden away in a secret garden passage in the heart of El Borne, Glow offers a myriad of yoga classes and styles to calm the mind, exercise the body, and nourish the soul. 

The studio at Glow is large, with lots of natural light, and there are 30 weekly yoga classes to choose from, a great variety of teachers and many flexible pricing options. Get ready to glow! ●
Glow, c/ Volta de la Perdiu 2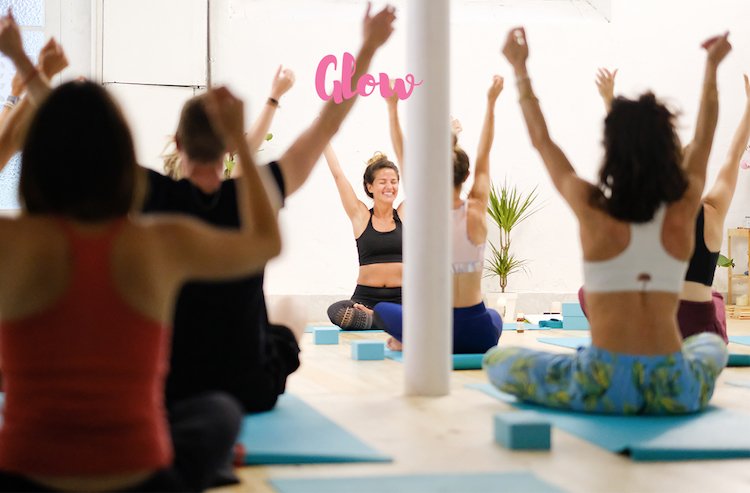 Have you tried any of these yoga studios in Barcelona? Which one did you enjoy the best? Let the happiness.com community know below. Liked this article? You may also enjoy: What I learned from my first time at Barcelona Yoga Conference
Written by
Calvin Holbrook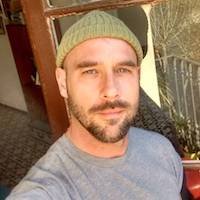 Calvin edits the happiness.com magazine, as well being an artist and travel lover. He also loves hiking, nature, swimming, yoga, sweaty dancing, and all things vintage!