After attending her first ever Barcelona Yoga Conference, happiness.com's
Yvonne Trappe

 reviews the event and picks her highlights: from family-friendly fun to classes with renowned yoga teachers including Shiva Rea, Patrick Broome and David Lurey.

 

This year I attended the ninth edition of the Barcelona Yoga Conference (BYC) – for the first time. My first impression was the very friendly atmosphere, full of conference-goers who've been going for years already. The event took place in Escola del Sagrat Cor de Sarrià, which was quite far from the city centre, but still had a decent train connection.


The concept behind the Barcelona Yoga Conference is great: they offer a few free yoga courses, movies, concerts, and the so-called BYC village where you can find clothing and other stands, food trucks, and a stage with live music. 


This year, happiness.com decided to sponsor the event and set up a stand to raise awareness of the website. Our stand provided us the best opportunity to have more in-depth discussions with visitors about their personal journeys and also discover their needs and feedback related to those journeys. We asked passersby what happiness meant to them and let them share it on a whiteboard. Our stand became a cosy, friendly place where we invited people to have a drink of lemon water and watch our videos from the Humans of happiness series.


The Barcelona Yoga Conference drew a very international crowd that included yoga teachers and professionals who thoroughly enjoyed the programme. There were also many volunteers supporting the event by lending helping hands throughout the four days, many of them coming from all corners of Europe.

 
Barcelona Yoga Conference: family first
What struck me was the family-friendly nature of the conference. It offered a nine-hour childcare service and several kids and family yoga classes, all for free! The entire conference space was smoke- and alcohol-free, and the food options are all vegan/vegetarian.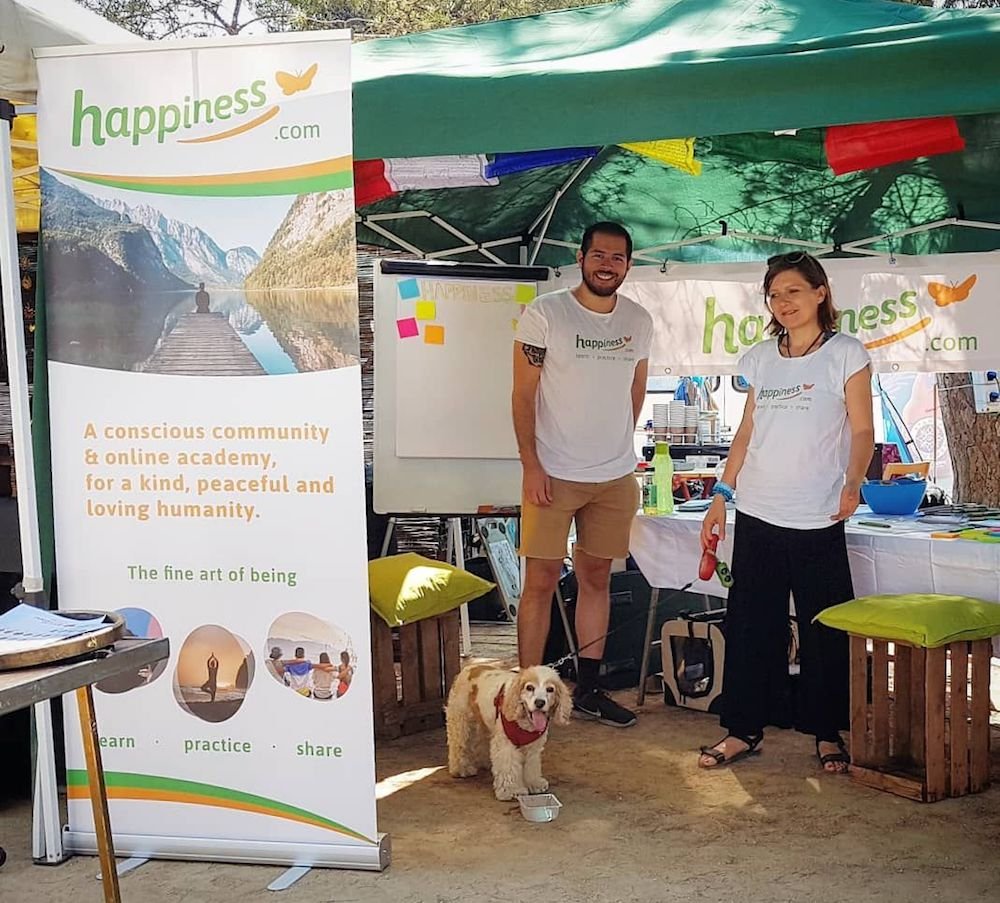 Yvonne, colleague Mario, and furry friend at the happiness.com stand

The Barcelona Yoga Conference pre-conference commenced on 4 July, followed by the main conference days of Friday to Sunday, and post-conference Monday. Ticket prices appear to be rather costly at first glance, but once you arrive at the conference, you quickly realise it's value for money when you see the world-famous yoga teachers offering more profound and intimate practices.

RELATED: The best yoga studios in Barcelona

A five-day ticket costs €380; three-day €285, or you could purchase a one-day ticket for €100 which allowed you to join as many classes and events as your body could handle. It's safe to say that one should go very well prepared; physically and emotionally!
THURSDAY: Patrick Broome 
I began my day with a moderate "YOGA FOR EVERYONE" class by Patrick Broome, a well-known yoga teacher from Munich, Germany. Many other Germans attended the class (due to his popularity, no less), which ended with a Thai yoga massage where we had to team up to practice. Although it took me by surprise, I was happy to pair with a nice Germany lady with a gentle touch. The last part of the class included a visualisation that was quite intense and emotional. My thought on this was, "This is what the popular yogis are capable of: really touching your heart."
FRIDAY: Dario Calvaruso/Yoshio Hama Dharma
On this day, I chose a class with Dario Calvaruso with NAVAKARAṆA VINYĀSA YOGA. It's a unique style that contains a distinctive sequence and is accompanied by the rhythm of a stick banging on a block. It was a super challenging class for an early Friday morning, but I pulled through unharmed. Dario mentioned that although he uses this method for various classes, experiences may vary. Overall, I felt that Dario was an excellent teacher, capable of guiding you through new physical experiences. Sadly I didn't get to join any more of his events, and now I'm curious to know how others fared.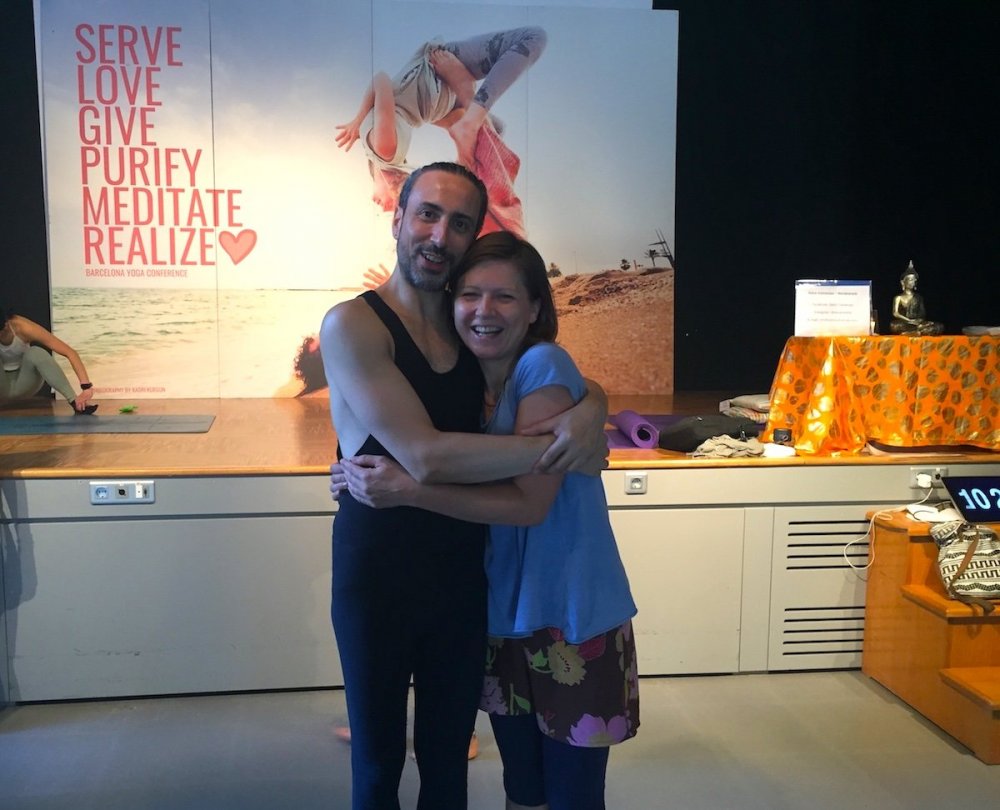 All the love! Post-class hugs from Dario Calvaruso 

The Navakarana Vinyasa yoga class left me spent and wondering how on Earth other attendees manage ten or more hours of yoga per day! It was a scorcher of a day, too, which made me realise the importance of keeping well hydrated. Later, I joined Yoshio Hama Dharma Yoga's class, where his very inspiring daughter joined him on stage and kept up with all the asanas. Anyway, that's when I realised that I'm probably not in the best shape!
SATURDAY: David Lurey, Krishna Das
Years ago, I used to attend David Lurey's classes at the Mandiram yoga studio, and he left such a good impression on me that I decided to start my day with his event. Once again, I wasn't disappointed. The class, aptly named 'Get up, Stand up' was fun, creative, dynamic and lighthearted. The perfection morning combination. David played the guitar while we all sang the famous Bob Marley song.

It dawned on me again that well-known yoga teachers provide experiences rather than just another yoga class. The same applied to Patrick Broome, where we laughed and danced a little, too. The most valuable insight shared was that we should listen to our bodies, not the yoga teacher. That was powerful.

The highlight of the entire event was the Saturday night concert by Krishna Das. Where we saw a maximum of 50 people passing our stand all day, suddenly over 500 people were scurrying to get a good spot at the concert! Krishna Das didn't disappoint with his soulful voice and fantastic Kirtan. Shortly after the show began, it started raining heavily with a dramatic backdrop of thunder and lightning, but that didn't affect the performance at all.
SUNDAY: Anastasia Shevchenko/Juan Dong
Even though probably 80 to 90 per cent of yoga students are female, I realised that the teachers who gave classes at the BYC were mainly male. For this reason, and also because I preferred Room 4 with its large windows and shade more than the other halls, I spent my Sunday morning with Anastasia Shevchenko who offered a dynamic yoga fusion class.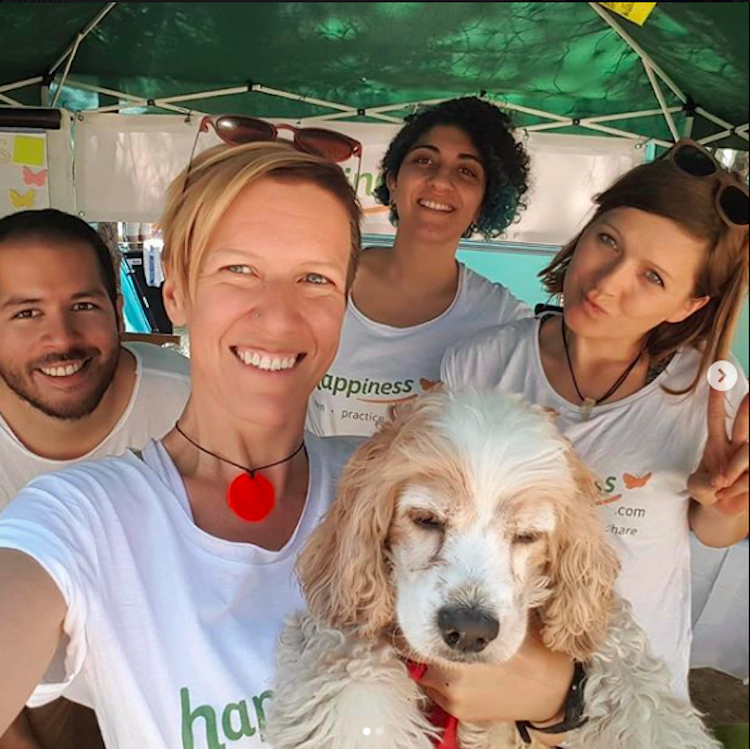 The happiness.com team at Barcelona Yoga conference

I had a pleasant chat with her before, and she shared her involvement in the Berlin yoga conference too, so I just had to attend her event. It turned out to be a great start to my day. The asanas had a good structure, the flow dynamic but not too challenging. At the end of the class, she mentioned that it wasn't her intention to show how well she can practice yoga. Maybe this is what makes her a good yoga teacher.

After three days of yoga, I decided to join Juan Dong's restorative yin flow class, which displayed some surprising elements. We each received orange essential oil at the beginning of the practice, and refreshing peppermint oil at the end. It felt great, and I appreciated that some students gave priority to their savasana. And, just like that, the main Barcelona Yoga Conference was nearly over.
MONDAY: Shiva Rea
By Monday, the BYC village had disappeared, and just a few attendees remained, but still, the post-conference offered good highlights. There was a choice between  Krishnatakis Thai yoga massage, Shiva Rea prana flow or Krishna Das Bhakti workshop. I went to Shiva Rea and again was pleasantly surprised. Shiva Rea has a clean aura and illuminated presence with her beautiful white dress. 

I missed the first part of Shiva Rea's class, but the second part began with a very relaxing yoga Nidra session, accompanied by a beautiful Tina Malina Kirtan. After that began the more intense flowing and flexing asanas combined with spiritual movement. Some attendees even managed the mermaid position. Wow!

But it's not about what others can achieve. Yoga is about your own practice. It's much more deeply in yourself that you need to be open than flexible. We finished with a deep "Ooohhhmmmm" and the realisation that I will keep practising my mind here at happiness.com! ●
 
Did you attend this year's Barcelona Yoga Conference? We'd love to hear what you thought about it over at the forum.